(24, September, 2022)
This article is about;
・Gizan Katoh, Buddhist sculptor / Sculptor, who is highly evaluated and getting fame gradually.
・You can know Gizan Katoh's profile, artworks, how he's admired nowadays and interesting facts.
・Many photos of his artworks from his instagram. Don't miss it.
1.Prologue
Gizan Katoh is a Japanese Buddhist sculptor, also making Buddhism based original artworks. His Buddhist wooden statues are already highly evaluated in the modern art industry, getting fame gradually.
This article shows you his profile, great artworks and interesting facts to know.
As I am Japanese, I collect his information as much as possible from Japanese original sources. And I summarized & described in English. It is appreciated if you are interested in his art. Not only Buddhism art fans, but also all art lovers must check his works.
・Who's Gizan Katoh?~His Profile
Here's Gizan Katoh's profile.
| | |
| --- | --- |
| Name | Gizan Katoh |
| Nationality | Japan |
| Occupation | Buddhist sculptor / Sculptor |
| Birth | 1968 |
| Born in | Tokyo |
Reference: Gizan Katoh's Official Website
Instagram: gizankatoh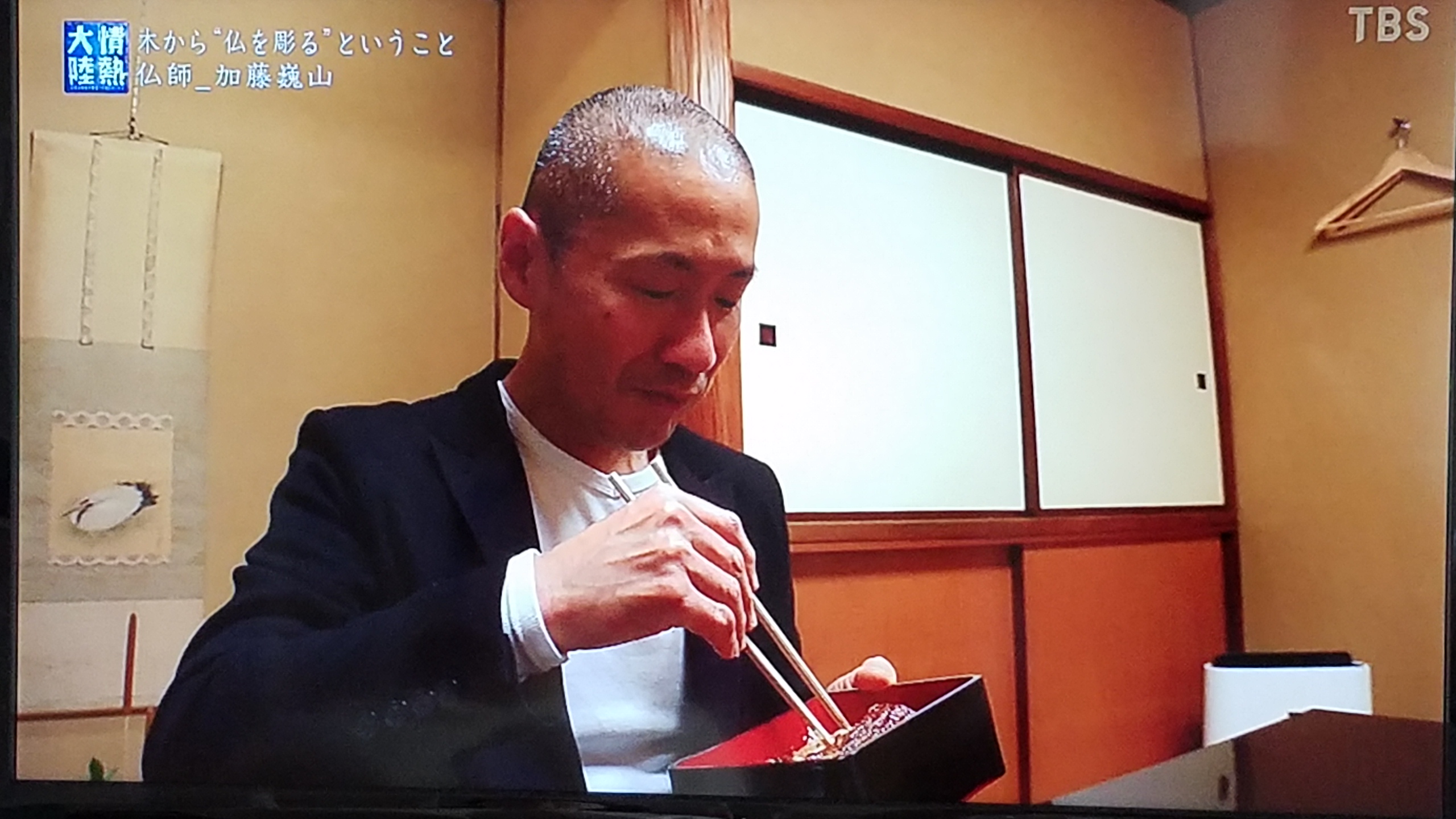 Gizan Katoh, eating his favorite food, grilled eel on rice.
Image from: "情熱大陸"(MBS)
・Background
Gizan Katoh was born in 1968 in Tokyo, Japan. He spent his childhood, surrounded by Buddhist temples and Buddha statues.
In his 20's, he played guitar, dreaming to be a professional musician but it didn't come true. As he wandered in despair of his life in mid 20's, he encountered a Buddha statue, shocked. It was life-changing for him and started learning sculpture of wooden Buddha statues under Jyuubun Iwamatsu. Now he is an independent Buddhism sculptor, representing by himself as a 5th successor of Koun Takamura, historical legend of Buddhism sculptor.
His works are basically rooted in Buddhism and its strict rules followed long years historically, but his originality creates his own artworld as well; Buddhism based modern artworks. Both of his pieces are highly evaluated nowadays all over the world.
2.Gizan Katoh's artworks
In this chapter, you can check out Gizan Katoh's works, both Buddhism sculpture and Original sculpture.
・Buddhism sculpture
Gizan Katoh's wooden Buddha statues are dedicated to temples in Japan. "Enishi" project is his important activity that he delivers the Buddha statues to temples in Tohoku area, where many people passed away from the enormous earthquake in 2011. Buddha statue quietly mourn the deceased from the disaster, and gently accept people visiting to make a wish to him.
・Original sculpture~Buddhism based modern art
Gizan Katoh's aesthetics are Buddhism based, filled with mercy, acceptance, forgiveness and sacred dignity. His masterpiece "Jigen・I" is featured by Christies New York, which will be described later.
3.Facts to know about Gizan Katoh
This chapter will bring you some interesting facts of Gizan Katoh.
・He respects Unkei & Kaikei
Unkei and Kaikei are historical Buddhism sculptors in 12th century Japan. Their masterpiece, national treasure is "Kongo Rikishi Statue" in Todai-ji in Nara prefecture.
Gizan Katoh visits there. Kongo Rikishi, the sacred guardian for Buddha, is standing in front of him.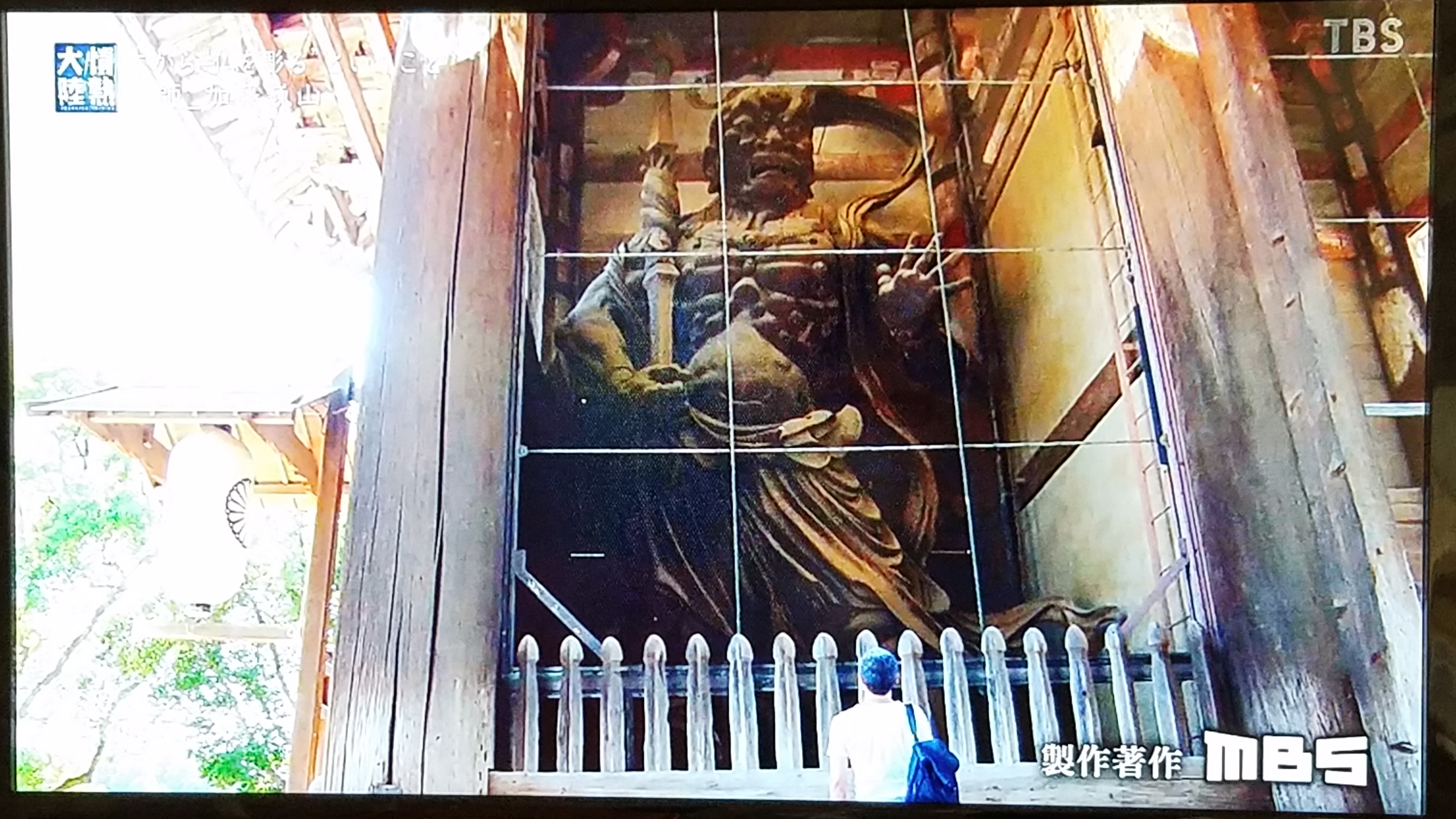 Image from: "情熱大陸" (MBS)
He comments that someday he wants to make a great "Nio" statue of the modern era, which will overwhelm people even for hundreds of years in the future, like Unkei.
*Nio (or Niō) means the muscular strong guardian for Buddha.
・New project for Ninna-ji
Gizan Katoh is working on the renewal of the statues for the central gate of Ninna-ji, a Japanese Buddhist temple of world heritage. For the detail, you can read my article about Ninna-ji. I visited there and made a report with photos.
・"Enishi" project
Gizan Katoh delivers Buddha statues to the temples in Tohoku, Northeastern area of Japan, which faced a big earthquake in 2011, in a devastating situation; For those temples which lost their Buddha statues or temples damaged. He makes wishes for people in Tohoku to recover peaceful life.
・Temples dedicated for his Buddha statues
Basically, Gizan Katoh does not disclose the temples' name that he dedicated his Buddha statues. Information is limited, but 2 temple names were found that have his statues.
(1)Bodai-in in Fukushima prefecture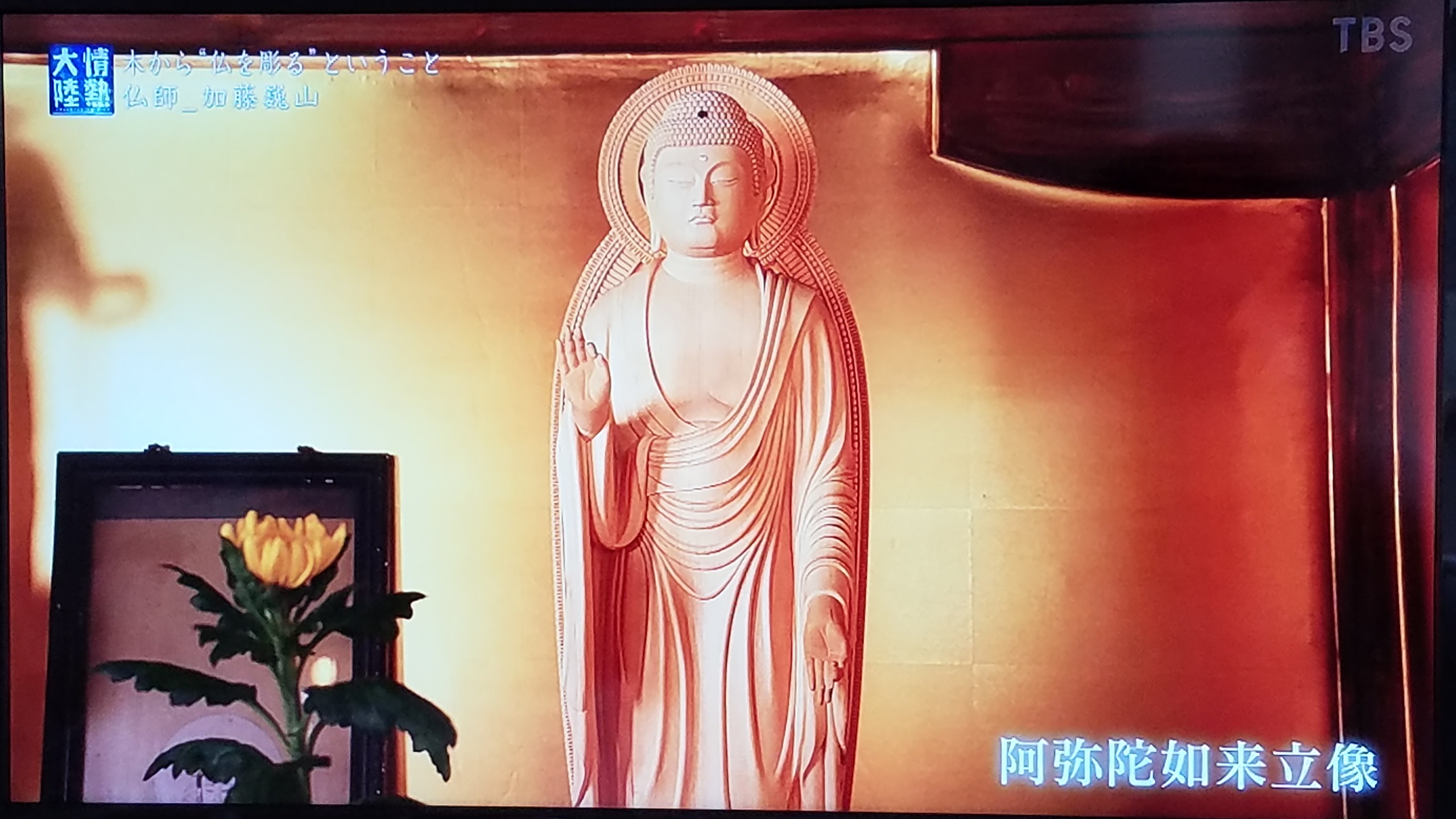 Image from: "情熱大陸"(MBS)
Location:
(2)Kougan-ji in Iwate prefecture

Image from: "情熱大陸"(MBS)
Location:
Above 2 statues are under his "Enishi" project.
・Christie's NY highly evaluated his original work
His masterpiece of Buddhism based original artwork, "Jigen・I" was praised by Christie's New York with its value worth 200,000 US dollars.
4.Epilogue
This article brought you information about Gizan Katoh; his profile, 2 types of artworks and interesting facts. I have never seen his real artworks yet, so if he held an exhibition, I would visit there definitely. I am also looking forward to his statues for the renewal project of the central gate of Ninna-ji.
Through his great Buddha statues, people will feel the mercy and be cured mentally with its dignity and quietness. I hope it will give a piece to people all over the world.
Fin.
<Related article>
・Gizan Katoha is making a new Buddhism sculpture for renewal of the central gate of Ninna-ji, the world heritage temple with history more than 1000 years. Check out my article about Ninna-ji, with my visit report and photos.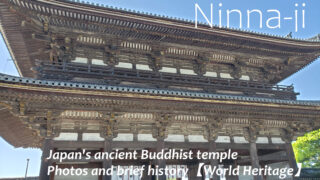 Ninna-ji, Japan's ancient Buddhist temple|Photos and brief history【World Heritage】
(4, May, 2022) This article describes Ninna-ji temple, an...