(2, October, 2022)
コンコン
We visited a beautiful boutique of miniature Buddha statue.
ペンペン
The shop's name is Isumu. They have a lot of precise-made Buddha statues.
This article is about;
・Isumu, a Japanese brand which creates miniature Buddha statues and sells them.
・I visited the boutique in Tokyo. Check out my report with photos.
・You can shop online as well. Don't miss it.
1.Prologue
"Isumu" is a Japanese brand, producing high-quality miniature Buddha statues. Their products propose a quality life with Buddha always there, which will bring us relief, de-stressor and sacred relaxation.
This article will show you what Isumu is all about; their philosophy, their products, and my visit report to Isumu boutique in Tokyo. They have online shop as well, of course, so you can make purchase anywhere in the world. Their products are precise, high-quality and handy sized, so you must love it and make a pray to Buddha.
2.What is Isumu?|Brand Concept and Philosophy
Firstly, please watch the concept video from Isumu's YouTube channel.
Youtube Channel:イSム
Video Title:"イSムコンセプト動画2013"
URL:https://www.youtube.com/watch?v=BHL9uyU6GAk
As described in the first chapter, "Isumu" is a Japanese brand, producing high-quality miniature Buddha statues. You can enjoy their handy Buddha in daily life. Isumu's ideal sized Buddha statues are based on traditional design, but still fit into modern lifestyle and interior design as you see in the YouTube video above.
Various types of Buddha statues are available, whichever must fulfill people's busy life with relief.
・SNS
You can check out information & product images about Isumu with various SNS platforms.
・Access to Tokyo Boutique
Isumu Boutique is located in Omotesando, Tokyo.
Business hours: 11:00 am to 7:30 pm, opening seven days a week
*closed during New Year holidays
TEL: +81-3-6419-7822
*3~5 minutes walking distance from subway Omotesando station.
Before you visit, making a reservation is highly recommended. Contact form is here: https://isumu.jp/en/inquiry/
Before I visit, I made a reservation by phone casually, as I am Japanese, living in Tokyo. The shop clerk asked me about the purpose of my visit, my favorite Buddha, which type of Buddha statue I was looking for. Based on the customer's taste or request, they will check their available statues stock and prepare specially for your visit. It will make you have a rich & exclusive experience.
・Web shop
If you are unable to visit Isumu Tokyo Boutique, you still can afford to buy online. Web shop links are here;
・Line-up
You can check out some of Isumu's beautiful statues below.
✅弥勒菩薩 (Miroku Buddha, maitreya or metteyya)
Miroku Buddha is said to be appearing in future world to save human beings with his great mercy. Also said that Miroku Buddha is calmly considering deeply how to save all of people everywhere.
✅如意輪観音 (Nyoirin Kannon)
Nyoirin Kannon make every people's wishes come true as he likes with his divine power, bringing prosperity for the world.
✅風神雷神 (Fujin and Raijin)
Fujin is a Japanese God of winds, and Raijin is a God of Thunder. Japanese temples worship Buddha, while these local gods stay together, which makes Japanese religion complicated.Sometimes Japanese says that they have no religion, but have millions of Gods in actuality in the depth of their minds. They are unconscious about this fact.
・Material and Production Process
This chapter will show you some secrets of beauty for Isumu's products.
Material – Isumu's miniature Buddha statues are made from Polystone, which is a mixture of resin and stone-like material. It makes possible to materialize precise components and coloring, ideal for manufacturing small Buddha figures.
Production Process
(1)Prototype
Isumu's miniature Buddha statues are mostly based on real historical big statues. Skillful mold makers materialize it in miniature size. This process is the most important first process to make beautiful figures.
(2)Die cutting
Isumu's statues consist of tiny precise parts for which silicone die cutting is suitable. However, silicone die cannot make mass production. Isumu dares to take this way to materialize precise beautiful products.
(3)Polishing/Assembly
Parts come out after the die cutting process. Isumu's skillful craftsman polishes parts one by one to meet high-quality demands. Those carefully polished parts are assembled to complete the handy-sized beauty of the great Buddha.
(4)Painting
Skillfully assembled Buddha statues will come to life with its color. Isumu's trained painter gives life to the small great Buddha.
With these production processes, mostly manually by craftsman's hands, many of Isumu's Buddha statues are produced in limited quantity. As Isumu gets its popularity, limited models tend to be sold out in presale, before its release date. So, if you hope to get limited models, make a reservation or must buy now.
Additionally, they provide after sales services. You could contact them to ask repair, in case your piece is damaged or broken.
3.Visit report & photos of Isumu Tokyo Boutique
I visited Isumu's Boutique in Omotesando, Tokyo, making a reservation in advance. It was such an exclusive experience thanks to the professional clerk. The clerk gently taught me about their products in a luxurious atmosphere. (I am not sure whether they could accommodate you in English or not, though). Photos follow.

This is Nyoirin Kannon, which is my favorite Buddha statue.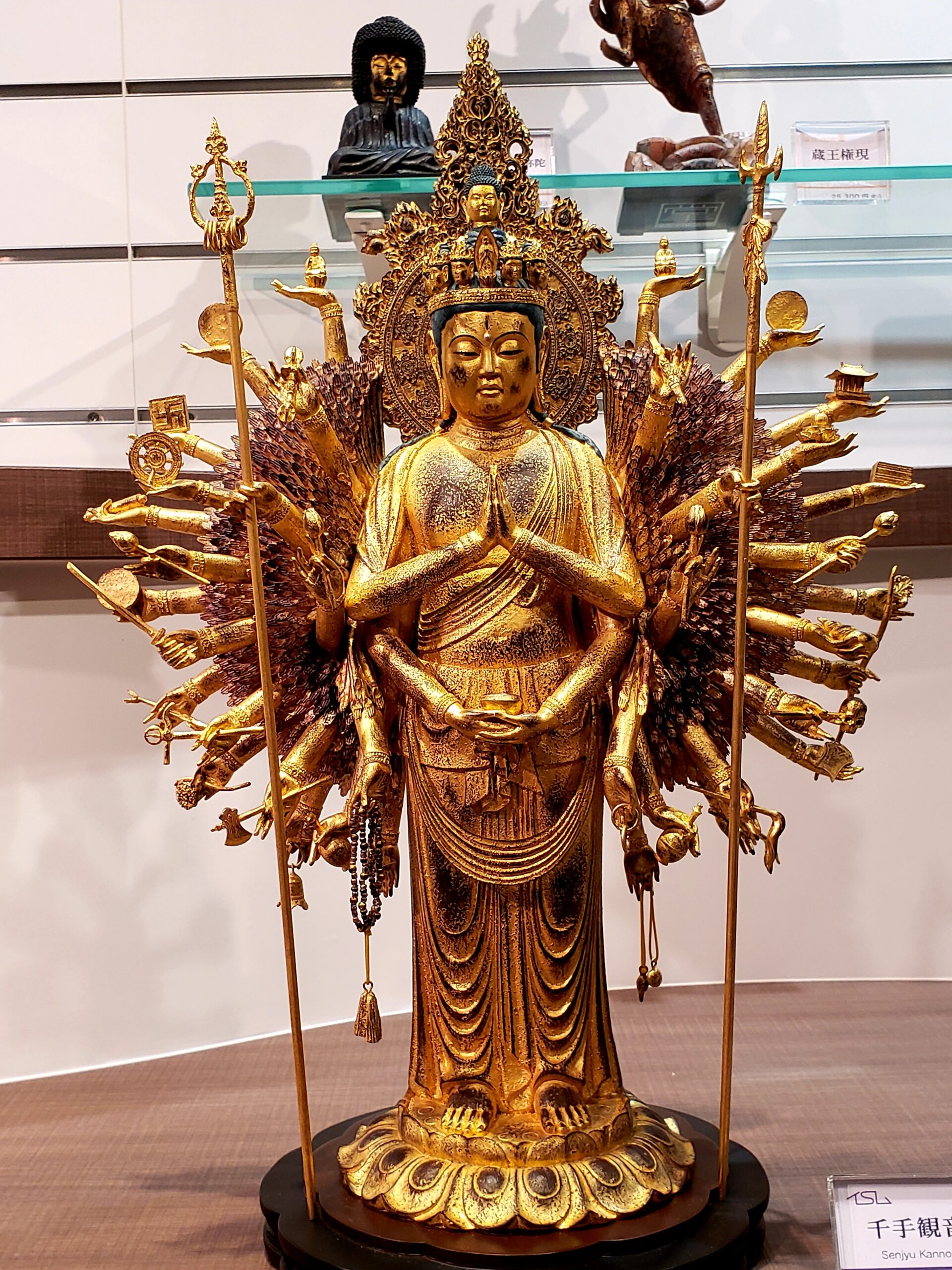 Senju Kannon, with thousands of hands to save all the people without fail.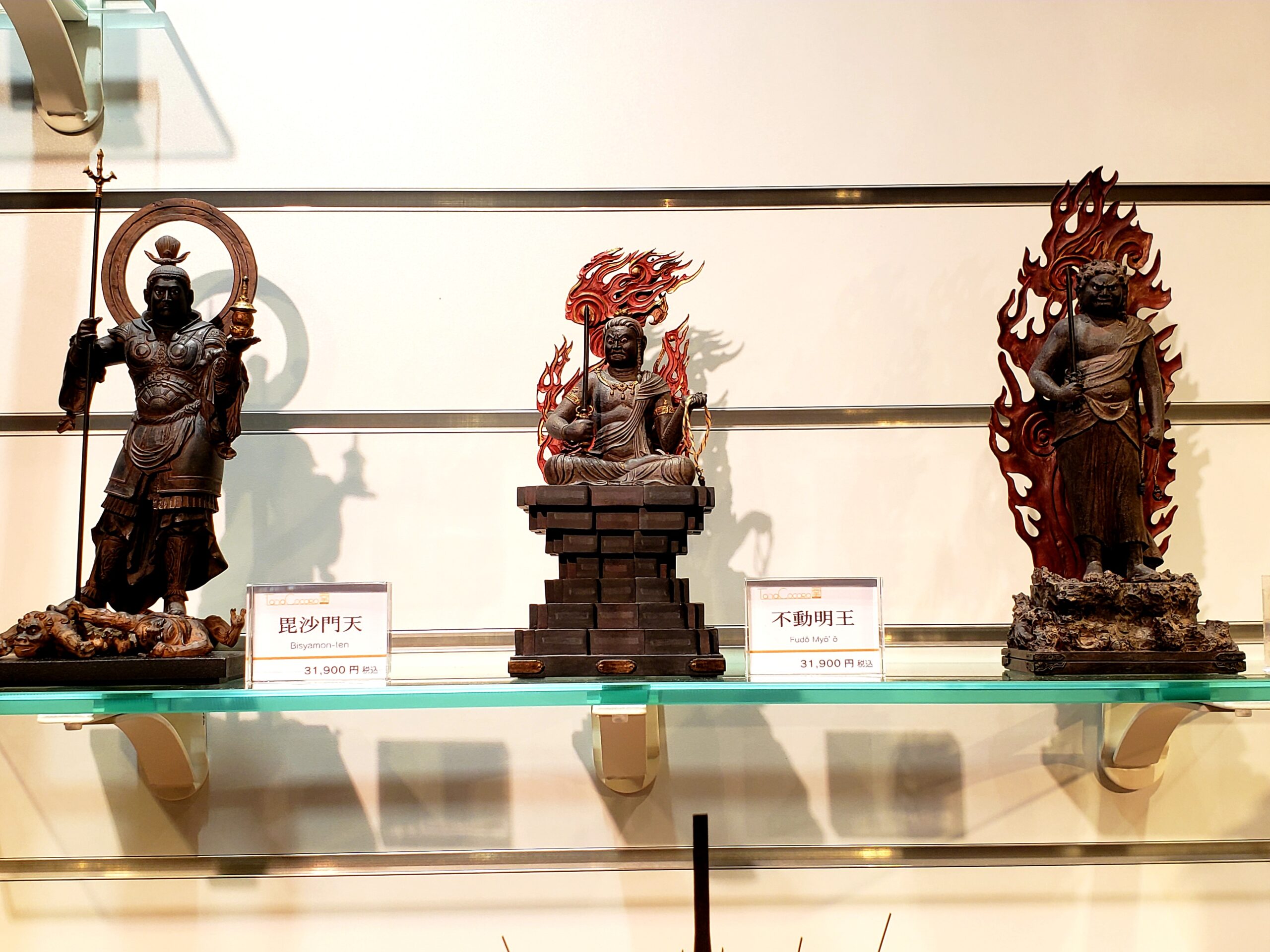 The central one is Fudo Myoo, who beats evil, leading people to Buddhism which will save the world.
4.Epilogue
This article brought you information of Isumu, the Japanese brand of high-quality miniature Buddha statues. I spent fantastic time visiting to their Tokyo boutique. I recommend you to go there once to feel their philosophy and experience their world. They will attract you for sure. I hope you are interested in it now.
Fin.
<Related articles>
・Gizan Katoh who is a Japanese Buddhist sculptor, getting fame as an modern artist as well.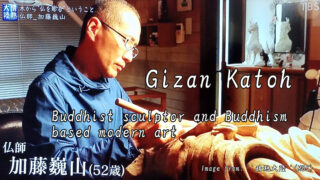 Gizan Katoh|Buddhist sculptor and Buddhism based modern art
(24, September, 2022) This article is about; ・Gizan Katoh, Bud...
・Ninna-ji, the Japanese Buddhist temple of world heritage with more than 1000 years history.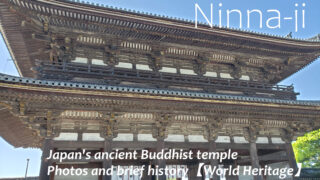 Ninna-ji, Japan's ancient Buddhist temple|Photos and brief history【World Heritage】
(4, May, 2022) This article describes Ninna-ji temple, an...