(25, July, 2022)
This article looks into;
・Roki Sasaki's profile, background, player's characteristics and important facts to know.
・You can check videos of his perfect game in April, this season.
1.Prologue
Roki Sasaki(or Rōki Sasaki、佐々木朗希) is a Japanese professional baseball player in Chiba Lotte Marines, NPB(Japan Professional Baseball League), right handed pitcher, aged 20 years old (as of July 2022). He is a young star already, making a legendary perfect game on 10, April, 2022.
This article investigates this young hope who is expected to play in MLB in future; his background, profile, arsenal, professional career including the perfect game and facts to know. Don't miss this potential prospect for all baseball fans.
Reference Web page: Wikipedia (Japanese Edition), 「佐々木朗希」
2.Profile of Roki Sasaki (or Rōki Sasaki)
Profile of Roki Sasaki follows.
| | |
| --- | --- |
| Name | Roki Sasaki (or Rōki Sasaki, 佐々木 朗希) |
| Birth | 3, November, 2001 |
| Height | 6′ 3″ (192cm) appx. |
| Weight | 187 lb (85kg) appx. |
| Home | Rikuzen-Takata, Iwate prefecture |
Iwate Prefecture has produced other big players such as Shohei Ohtani (LAA) and Yusei Kikuchi (TBJ).
・Earthquake and Tsunami in 2011
Enormous Earthquake attacked the Great East area of Japan in 2011, which is called "3.11" (happened on 11, March). Coincidental Tsunami swept away Roki's home and lost his father as well as grandparents. This disaster was fatal experience in his youth.
He left his hometown, Rikuzen-Takata, moving to Ofunato when he was 10 years old. He gradually stepped up and became famous there as a baseballer; Ofunato Junior High School and Ofunato High School.
・High school tournament
In his 3rd year of Ofunato high school, he was an ace pitcher as well as slugger. At the championship final in Iwate local tournament, Sasaki didn't appear on the game due to his manager's decision, to avoid injury from pitching too much without enough cure time. As a result, the team lost, never proceeded to the All Japan Championship, which raised controversy among Japanese baseball fans. They put an emphasis on winning in the Japan Championship rather than his professional career afterwards.
In my personal point of view, I think it was a great decision of the manager, in terms of his future professional career, even if it was criticized by many fans.
・Chiba Lotte Marines got him
In 2019 NPB draft, Chiba Lotte Marines got him; the team manager is Tadahito Iguchi, who used to play in MLB, Chicago White Sox(2005 World Champion) and Philadelphia Phillies(2008 World Champion). And pitching coach is Masato Yoshii, who played in MLB for 5 seasons (1998~2002).
He is in a good circumstances under brilliant manager and coach who know well on both baseball in Japan and the United States. The team manages him very strictly as he is still too young to work hard through whole season. For example, the next game of his perfect one, he pitches perfect again till 8th innings, but the team decided not to continue with Sasaki, changing to reliever, caring the number of Sasaki's pitch(102) and load on his arm. Chiba Lotte Marines cherish him, avoiding hard work and phisical injury even under the 2nd consecutive perfect game.
ロッテ🐨

新入団選手7名の挨拶です🗣
ドラ1:佐々木朗希
  2:佐藤都志也
  3:高部瑛斗
  4:横山陸人
  5:福田光輝
育 (1):本前郁也
  (2):植田将太

🐨#chibalotte
🎥#BKch pic.twitter.com/BHeoYJn2js

— ベースボールキング⚾🥎 (@BaseballkingJP) December 9, 2019
*His first show-up comment after joining Chiba Lotter Marines.
3.Facts to know about Roki Sasaki
In this chapter, you will learn important facts/trivia about Roki Sasaki.
・Features
He is tall (6′ 3″ appx.), fastballer like Shohei Ohtani or Yu Darvish. In Japan NPB (Professional Baseball League), he dominates enemies already, making perfect game, accumulating strikeouts with an excellent ERA 1.xx.
・Arsenal
Roki Sasaki's arsenal below.
| | |
| --- | --- |
| 1 | Four-seam Fastball(over 100 mile/h) |
| 2 | Slider |
| 3 | Splitter |
| 4 | Curveball |
・Over 100 mile/h
His fastball's maximum speed is 101 mile/h. Mostly his four-seam fastball is measured around 100 mile/h.
/#佐々木朗希
164キロの表示に
どよめく球場🙌
\

⚾#プロ野球(2022/3/27)
🆚楽天×ロッテ
📱Live on #DAZN#chibalotte #NPB #球春到来 pic.twitter.com/pLuShEriaS

— DAZN Japan (@DAZN_JPN) March 27, 2022
*164km/h is approximately 101 mile/h.
・Perfect game
In the game on 10, April, 2022 against ORIX Buffaloes, he made a perfect game; 19 strikeouts which includes 13 consecutive SO. Perfect game has been made for the first time in these 28 years of NPB history. He is the youngest to make a perfect game in Japanese Baseball history, 20 years old at that time. This young fastballer broke following records in the single perfect game.
Roki Sasaki's Record
・13 consecutive strikeouts
*It is the new record in Japan Professional Baseball(NPB) history.
・19 strikeouts in a single game
*Equal record as Koji Noda made in 1995.
・The youngest perfect gamer in NPB history: 20 years and 5 months.
Look at his outstanding pitch.
#佐々木朗希 投手、全アウトまとめ!
NPB史上28年ぶりの完全試合達成、NPBタイ記録の1試合19奪三振、NPB記録更新の13者連続奪三振!#chibalotte #MarinesBaseball #BLACKBLACK #MarinesGoodPitch pic.twitter.com/TnN0mgkQIG

— 千葉ロッテマリーンズ (@chibalotte) April 10, 2022
It was really the perfect of perfect game with 105 pitches. In the next game on 17, April against Hokkaido Nippon-Ham Fighters, he pitched perfect again till 8th innings. However, due to number of pitch (102) reached a limit and manager's policy to cherish his long term career, he didn't continue to pitch, missing the opportunity to make another perfect game. This judge-making by Chiba Lotte Marines caused storm of discussion among Japanese fans. Some say Roki must have pitched till first hit, another say the decision was correct, considering Roki's long term career and load on his arm.
Personally I wanted the team to let him pitch to make 2nd consecutive perfect game, as this quite special opportunity will never come again in the whole career. However, the team may be hoping Sasaki to play in MLB in future with good shape. I can understand the team's policy too.
・Favorite song
Roki Sasaki's favorite artist is Aimyon, who is popular among young Japanese. His theme song at home stadium is this one.
Aimyon|Konya Konomama
He met her in a Japanese TV show, "Ongaku-no-hi"(TBS Inc.). He said he was excited meeting her but was also nervous, saying his heart was pounding. In the program, he commented he wants everyone to know her good songs, as he pick Aimyon's song for his theme music.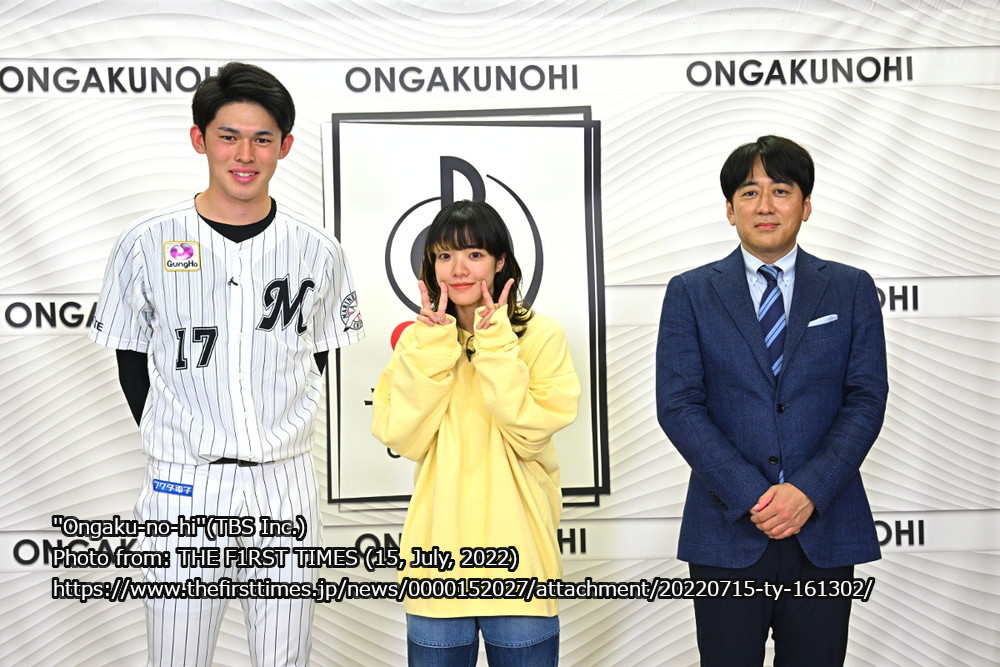 Photo from: THE F1RST TIMES (15, July, 2022)
・His comments about MLB
Will he play in MLB someday? The answer is probably yes. In a newspaper interview, he comments on MLB in future; he aims to play well and make good scores in Japan at first before challenge to MLB. He dare to say no more words about it.
Source Interview by: Sanspo *in Japanese.
【新春特別インタビュー】ロッテD1・佐々木、将来の夢は侍で世界一&メジャー挑戦 (3, January, 2020)
4.2 season stats
Roki Sasaki joined Chiba Lotte Marines in 2020. He didn't pitch in the game when he was a freshman. He started his career in 2021. Here is his stats of last season and this year till today (as of July, 2022).

URL:https://docs.google.com/spreadsheets/d/e/2PACX-1vTqWjJzL-4h_qVTCxYSvdZlkuZcCT6ypRf-5FIjI8R_zyXscr4_Fh83w0rG6S6J7DrBNvBWmLzp-mpc/pubhtml
His career has just begun. Fans are expecting him to dominate in Japan and make legends before playing in the Big League. He must be able to make it!
5.Epilogue
Roki Sasaki's whole performance including the perfect game rock fans not only in Japan, but also the US; the real perfect of perfect game drew the attention of MLB fans too. I personally feel he is like Shohei Ohtani concentrating only on pitching as he too is tall, fastballer, earnest attitude and the hometown is same.
He must make legends in Japan and someday play in MLB hopefully. Don't miss this super prospect's great performance ahead.
*Video of consecutive 13th Strikeouts, untouchable record of NPB.
#佐々木朗希 投手、プロ野球記録更新中!驚異の13者連続奪三振!#chibalotte #MarinesBaseball #BLACKBLACK pic.twitter.com/H7jxbLsoHl

— 千葉ロッテマリーンズ (@chibalotte) April 10, 2022
Fin.
<Related Articles>
・Check out historical Japanese MLB players with my review and short comment. You can briefly view them all with my original table.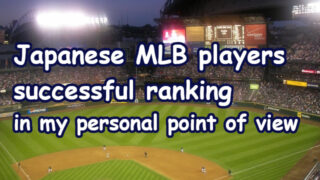 Japanese MLB players successful ranking in my personal point of view
(5, June, 2022) ・What is this for? You can briefly tak...
・Check out Shohei Ohtani's Japan Stats/Records that he broke in NPB.
Shohei Ohtani's amazing stats in Japan 
(19, February, 2022) This article looks into; ・Shohei Ohtani's...