(19, February, 2022)
This article looks into;
・Shohei Ohtani's 5 years stats in Japan.
・Incredible accomplishments/records as a two-way player.
1.Prologue
Shohei Ohtani is now a two-way superstar in Los Angeles Angels. His two-way adventure comes to make legend by obtaining MVP in big league. Sensation is not only in Japan but in the USA as well.
This article deals with his early days before joining MLB; Do you know his accomplishments in Japan Professional Baseball League(NPB)?
*N represents Nippon, which means Japan in Japanese. P=Professional, B=Baseball.
To know the history of building up his two-way playing style, looking into his early days stats in Japan is interesting and fun.
・Before Shohei Ohtani came to NPB
Before he came to NPB(Japan Professional Baseball League), it caused a big wave of controversy among analysts about his challenge on two-way style. TV shows and Sports Magazines dealt with his challenge as well.
Although he was already a superstar in High Schoolers' baseball tournament, most of their points of discussion were only alternative; Pitch or Hit? Some said he should focus on hitting, while others value his pitching ability. Very few analysts/retired legendary players were positive about his two-way challenge at that time.
Fortunately, it was luck on him that Hokkaido Nippon-Ham Fighters picked lucky-draw and got him.
*In Japanese draft system, if multiple teams pick a single player, lucky-draw is done.
The manager, Hideki Kuriyama, highly respected his challenge and dream to play in MLB in future.
*Yu Darvish played in Fighters for 7 years(from 2005 to 2011) with legendary accomplishments with amazing stats before being a big leaguer.
Ohtani played in Fighters for 5 years before joining Halos. The Next chapter will focus on his great stats during this period.
2.Shohei Ohtani's stats in NPB from 2013 to 2017
This chapter will look into Ohtani's stats when he played in NPB, Japan's professional Baseball League. Since the very beginning, he played in two way. Will look at pitching and hitting stats individually.
・As a Pitcher
Shohei Ohtani's Pitching Stats in Japan.
→View the table in larger image.
Reference: Wikipedia(Japanese) "大谷翔平"
URL: https://ja.wikipedia.org/wiki/%E5%A4%A7%E8%B0%B7%E7%BF%94%E5%B9%B3
・As a Hitter
Shohei Ohtani's hitting Stats in Japan.
→View the table in larger image.
Reference: Wikipedia(Japanese) "大谷翔平"
URL: https://ja.wikipedia.org/wiki/%E5%A4%A7%E8%B0%B7%E7%BF%94%E5%B9%B3
3.Incredible accomplishments by Shohei Ohtani
During his career in Hokkaido Nippon Ham Fighters, he was a remarkable two-way star and had done a lot of great work. Let's look at his major accomplishments.
・He brought victory to Fighters in 2016
In 2016 season, when he accomplished 10 Win-10 Homer (actually 10 Wins, 22 Homer), Hokkaido Nippon Ham Fighters won the Japan Championship.
*Japan NPB has 2 leagues, Central League and Pacific League. Each champions will match to get final championship, similar to MLB system of the World Series.
After Yu Darvish left Fighters to Texas Rangers, Ohtani played a big role to made up loss of the legendary pitcher.
・102 Mile (165km/h)
Ohtani marked 102 mile in 2016 season. It is the fastest record in Japan Pacific League history. This record was broken by Thyago da Silva Vieira in Yomiuri Giants in 2021. Japan's speed measuring system is based on kilometers. On this basis, it is 165km/h, which is remarkable among Japanese players. Only a few Japanese has marked 100 mile or over in Japan Baseball history.
・Accomplishment of 10-10 twice
In his 2021 MVP season in Angels, he nearly missed 10-10 (9 wins, 46 homers). However, in Japan NPB, he made it twice in 2014 and 2016 season. Japanese fans used to compare him with ''Babe" Ruth at that time.
In 2014 season:11 W – 10 HR
In 2016 season:10 W – 22 HR
*2 times 10-10 is a world record during world professional baseball history.
*Making 10 Wins, 20 HR, 100 Hits in 2016 season is also a world record among world professional baseball history.
・Leading Records
Wins Title:2015 (15 W)
Pitching Title:2015 (ERA 2.21)
Best Winning Ratio:2015 (.750)
Best WHIP:2015 (0.91)
Surprisingly, he got no leading title as a hitter during his Japan career, although he is a remarkable slugger in MLB. In Japan, he was considered to be a middle slugger as well as fast baller.
4.Change in performance
Ohtani's performance definitely changed comparing NPB times and in MLB. His physical figure simply shows its difference. You can see photos below. Size of muscle and body are totally different.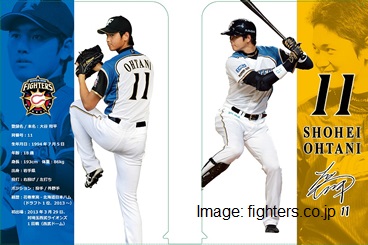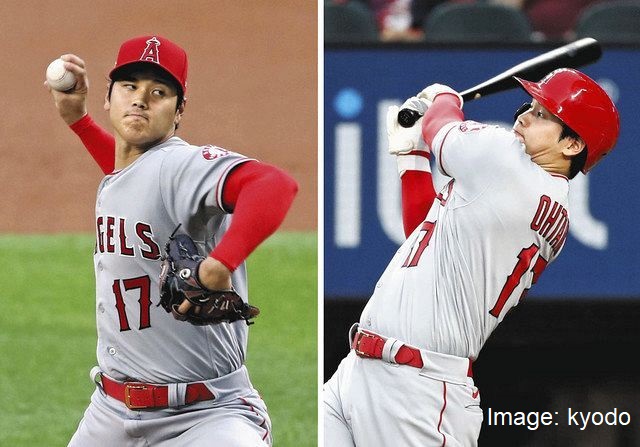 In his Japan career, the personal best HR numbers were 22 HR in 2016 season, while slugging 46 HR in 2021 in MLB. I think he was considered to be a middle slugger, unlike "Godzilla" Hideki Matsui, who was a legendary slugger in Japan, but his physical ability drastically improved that made him adjusted to tougher big league, where more physical ability and powers are required than NPB (Japan Professional Baseball League).
As a fact, his physical evolution is proved to be successful in 2021 MVP season.
I'm looking forward to his great journey of two-way, breaking past records and going beyond our common sense.
5.Epilogue
This article summarized Shohei Ohtani's stats when he was in NPB, Japanese Professional Baseball League. As mentioned in 1st chapter, his challenge on two way was kind of a controversy before joining NPB, Japan Professional Baseball League.
Personally, I like looking at statistics of great players, so I was not positive in two-way in my point of view; By doing in two-way, he may not be able to accomplish 200 Wins nor 500 HR/2000 Hits in his career. However, he swept away all of the concerns by fans and analysts by his incredible two-way performance, even obtaining 2021 MVP in big league.
I can't wait to watch his great performance and making legendary records that must surprise us.
Fin.
<Related Articles>
・You can view historical Japanese MLB players overall with my original table.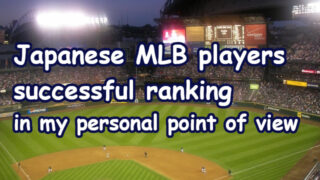 Japanese MLB players successful ranking in my personal point of view
(5, June, 2022) ・What is this for? You can briefly tak...
・Following article is written in Japanese but you can check out his summarized two-way stats in 2021 MVP season. Stats are written both in English and Japanese.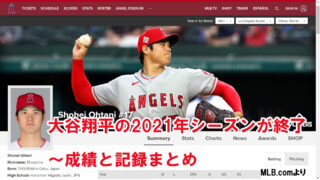 大谷翔平の2021年シーズンが終了~成績と記録まとめ
(2021.10.10) 記事の概要 ・二刀流で大活躍した大谷選手の2021年シーズン成績と記録をまとめ。 ・ハイライト動...
・You can watch highlighted videos of his 2021 MVP season. Sentences are written in Japanese.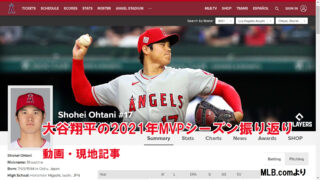 大谷翔平の2021年MVPシーズン振り返り|動画・現地記事
(2021.12.19) 記事の概要 ・大谷翔平選手が2021年シーズンのア・リーグMVPを獲得。それに関するMLB公式の動...