(5, June, 2022)
コンコン
I want to know historical Japanese Big Leaguers overall.
ペンペン
Same here. A lot of legends such as Hideo Nomo, Ichiro Suzuki and more…
アザラシさん
All right. Then you can check out
this one
…
・What is this for?
You can briefly take an overall look at Japanese MLB players; when their professional career starts? When their MLB career starts? and when is their retirement. Each player is ranked based on how successful they are. It is based on my personal point of view with my comment.
・Ranking Criteria
Each player is ranked from S/A/B/C/D, according to comparison of his performance between NPB and MLB.
*NPB means the Japanese Professional Baseball League.
If his performance/statistics drop in MLB, the rank gets lower. For example, Yu Darvish is a good pitcher in MLB but his performance & statistics get less qualified compared with NPB (e.g. his NPB career ERA is 1.99 while it's 3.56 in Big League), so his rank will get lower accordingly. Hideki Matsui and Masahiro Tanaka are considered similar; they would have broken more records or made better stats, if they continued playing in NPB.
If the performance/statistics are at the same level between NPB and MLB, he is considered successful in my thought. Hiroki Kuroda's performance was almost at the same level in both leagues, so his rank is high. For more examples, stats of So Taguchi and Shigetoshi Hasegawa are not so much outstanding, but they performed in MLB at the same level as NPB, so the rank is high accordingly.
Junichi Tazawa is very exceptional, playing direcctly in MLB from his very first career, without NPB career.
After all, this ranking tries to show;
・how successful his MLB endeavor is.
・how he fitted/adjusted the MLB environment.
*Aiming to show above rather than how great the player himself is as a baseball player.
This is totally based on my personal point of view and idea, so it may be controversial. Please feel free to post your comment of agree/disagree.
・Major differences between NPB and MLB
In many aspects, circumstances are quite different between NPB and MLB as follows.
・Tough transportation in long distance (NPB only 12 teams within small lands Japan, MLB total 30 teams all over the enormous united states)
・More games to go per season in tight schedule (NPB 143 games/season while MLB games are 162/season)
・Weight/Size of the ball is slightly different (NPB: 141.7g/22.9cm appx., MLB: 148.8g/23.5cm appx.)
・Pitcher's mound is different (NPB tends to be softer, MLB tends to be harder)
・Pitchers' arsenal trend difference (More moving fast ballers in MLB)
・Pitching velocity difference (You will rarely find 100 miler in NPB, while MLB has many)
Many Japanese players struggle to adjust differences above, but please keep in mind that all players transferred to MLB performed brilliant and outstanding in Japan NPB.
・Data table of Japanese MLB players successful ranking
You can take a look at my spreadsheet of Japanese MLB players successful ranking here.
URL: https://docs.google.com/spreadsheets/d/e/2PACX-1vScmr89KOxdjpnt16w1OgetQZK7xKyHKc-b8uitQ1X6hByA5FG4_-zlB5mkm1cI6QcQuMDZo1z5wVIV/pubhtml
*You can browse and scrol above table freely.
Data Reference: Wikipedia (Japanese Edition)
・Summary~More pitchers found successful than batters
Finally, here is the summary of the ranking.
Total players evaluated: 48
*33 pitchers, 9 outfielders, 4 infielders, 1 catcher and 1 two-way player.
S rank players number: 9
*6 pitchers, 2 outfielders and 1 two-way player.
A rank players number: 7
*4 pitchers, 1 outfielder, 1 infielder and 1 catcher.
B rank players number: 10
*7 pitchers, 2 outfielder and 1 infielder.
C rank players number: 7
*4 pitchers, 2 infielders and 1 outfielder.
D rank players number: 14
*12 pitchers and 2 outfielders.
*Seiya Suzuki is not applicable, who has just started MLB career in 2022.
<Grand Successful Ratio>
Pitchers above S/A rank: 30.30..% (10 out of 33)
Outfielders above S/A rank: 33.33..% (3 out of 9)
Infielders above S/A rank: 25% (1 out of 4)
As a result, more numbers of pitchers are found successful but the ratio looks similar with hitters. Some players are still active in MLB, so I am looking forward to their future performance that will make changes on the ranking. I will keep updated on this.
Fin.
<Related articles>
・If you want to look into Shohei Ohtani's Japan amazing stats and records, don't miss it.
Shohei Ohtani's amazing stats in Japan 
(19, February, 2022) This article looks into; ・Shohei Ohtani's...
・You can check out Seiya Suzuki's Japan Stats and performance with highlighted video.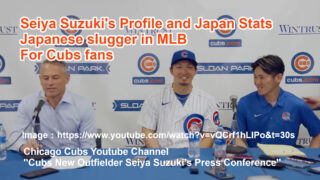 Seiya Suzuki's Profile and Japan Stats|Japanese slugger in MLB|For Cubs fans
(9, April, 2022) This article deals with; ・Seiya Suzuki's stat...